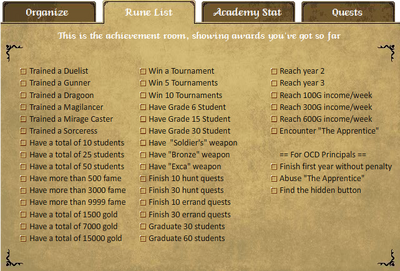 Runes are similar to badges. You receive runes by achieving certain things, such as playing for a certain amount of time, finding someone special, get some amount of money, and so forth. Runes you have achieved generate extra scores at the end of each Principal's career in original mode.
How to view Runes
Edit
You can see the list of runes, and ones you have achieved, by clicking in the Rune List tab at the Valthirian Arc academy menu.
How to get Runes
Edit
Below is a list of all runes. The method for achieving most runes is obvious.
| Rune | To achieve |
| --- | --- |
| Trained a Duelist | Train an Apprentice up to level 10. He needs to want to be a Duelist. |
| Trained a Gunslinger | Train an Apprentice up to level 10. He needs to want to be a Gunslinger. |
| Trained a Dragoon | Train an Apprentice up to level 10. He needs to want to be a Dragoon. |
| Trained a Magilancer | Train a Mana Scholar up to level 10. She needs to want to be a Magilancer. |
| Trained a Mirage Caster | Train a Mana Scholar up to level 10. She needs to want to be a Mirage Caster. |
| Trained a Sorceress | Train a Mana Scholar up to level 10. She needs to want to be a Sorceress. |
| Have a total of 10 students | Have at least 10 students that are currently in or passed through your school. |
| Have a total of 25 students | Have at least 25 students that are currently in or passed through your school. |
| Have a total of 50 students | Have at least 50 students that are currently in or passed through your school. |
| Have more than 500 fame | |
| Have more than 3000 fame | |
| Have more than 9999 fame | |
| Have a total of 1500 gold | This refers to the total amount of gold you have already earned. |
| Have a total of 7000 gold | This refers to the total amount of gold you have already earned. |
| Have a total of 15000 gold | This refers to the total amount of gold you have already earned. |
| Win a Tournament | |
| Win 5 Tournaments | |
| Win 10 Tournaments | |
| Have Grade 6 Student | Upgrade at least one student to grade 6. This works for both Apprentice and Mana Scholar. |
| Have Grade 15 Student | Upgrade at least one student to grade 15. This works for both Apprentice and Mana Scholar. |
| Have Grade 30 Student | Upgrade at least one student to grade 30. This works for both Apprentice and Mana Scholar. |
| Have "Soldier's" weapon | At least one student must have their weapon skill upgraded to grade 3 (Soldier's). |
| Have "Bronze" weapon | At least one student must have their weapon skill upgraded to grade 5 (Bronze). |
| Have "Exca" weapon | At least one student must have their weapon skill upgraded to grade 10 (max) (Exca). |
| Finish 10 hunt quests] | |
| Finish 30 hunt quests | |
| Finish 10 errand quests | |
| Finish 30 errand quests | |
| Graduate 30 students | |
| Graduate 60 students | |
| Reach year 2 | |
| Reach year 3 | |
| Reach 100g income/week | |
| Reach 300g income/week | |
| Reach 600g income/week | |
| Encounter "The Apprentice" | The Apprentice is found randomly when doing quests, and it is more powerful than any other creature. |
OCD Principals
Edit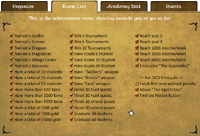 | Rune | Notes |
| --- | --- |
| Finish first year without penalty | Have the required number of fame each month in the first year. |
| Abuse "The Apprentice" | Kill the apprentice. Although this character is very strong, it is possible to beat it. |
| Find the hidden button | Click Credits from the main menu, then click the title of the page that pops up. |